Community

Commitment to the Community


Faust believes passionately in helping the community it is in. Our focus is often helping with projects, organisations or events supporting children or the arts in Hong Kong and Asia.

If you have a charity or a community based idea you think Faust could help with then please contact us at info@faustworld.com. We are always interested in hearing about opportunities and ways we can help, so please do email us with any ideas you may have.



One Block for Batug Book Donation



This Summer we have raised funds for a Philippine based charity called 'One Block for Batug' to raise money for the children and community of Batug. We have raised these funds to purchase educational resources, create an educational and healthcare fund as well as help build houses for families still displaced by Typhoon Yolanda.

Throughout our Summer Programme week's we have asked children who wished to participate to bring one age appropriate children's book to the workshops that they no longer needed along with $20. Children donated their book and use their $20 to buy a book brought by another student. This was a great way for children to get a different book and help a wonderful cause. We thank everyone for their efforts and donation. All money raised has gone directly to the charity.



PO LEUNG KUK FCC LANGUAGE TRAINING PROGRAMME



We are excited to begin a new partnership with Po Leung Kuk FFC Language Training Programme. Together, we share the same vision of giving an equal opportunities to all drama enthusiasts as to cater the learning needs of those young kids and disadvantaged children during their developmental growth. We are working with them to ensure that their children that have deep interest in drama get a chance to experience Faust Workshops. Over the holidays, we brought our drama workshops to the Po Leung Kuk community and the children are introduced to an array of drama activities. Every child should dare to dream and let their imaginations fly!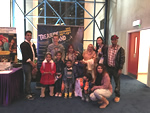 PREVIOUS FAUST COMMITMENT TO THE COMMUNITY ACHIEVEMENTS
Halloween dress up day in support of Crossroads
Tree of Hope Christmas Gift Collection
Mother's Choice Walkathon
Fancy-dress fundraiser in support of UNICEF appeal to help Nepal
Fundraising drama days in support of Mother's Choice and a China-based charity helping local orphanages in Ghangzhou.
Ticket distribution and free performances for local schools and organisations for The Nesbit Centre, Watchdog and Christian Action.
Donations from ticket sales to Hong Kong based charities including the Child Welfare Scheme and the Royal Hong Kong Yacht Club Charitable Foundation
Fundraising initiatives such as the Standard Chartered Marathon, Trial Walkers & the UNICEF Charity run