About Our Shows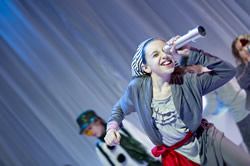 There are a number of opportunities for our Faust members aged 4 and above to perform which offers a great opportunity to refine drama skills, gain acting experience and be part of a real theatre performance.



THE FAUST FESTIVAL

Members of Faust International Youth Theatre in term 3 (except Stage, Tots and School Programmes) perform in the annual Faust Festival in June. This is a showcase for new talent, a chance for the children of Hong Kong to display their performing abilities and a celebration of the excitement of theatre for children and adults alike.



STAGE GROUP ANNUAL PERFORMANCE

Stage Group is made up of Faust's eldest members aged 15 to 18 who are considering a career in performing arts, or who wish to hone their skills further. Each year the group puts on their own production in Term 2 or 3, often choosing plays that will stretch and challenge the members. Past shows have included Waiting for Godot, Romeo & Juliet, The Government Inspector, Our Country's Good, Equus, The Tempest and The Crucible.



LARGE-SCALE PERFORMANCES

In addition to the festival Faust members can audition for our large-scale productions. Professionally directed with specially designed set, props, make-up, costume and set these are truly spectacular shows in incredible venues across Hong Kong in incredible venues. Members aged 8 and above can audition for these shows and rehearsals take place in addition to workshops. Previous productions have included The Jungle Book, Treasure Island, Fantastic Mr Fox, The Lion, the Witch and the Wardrobe, Michael Morpurgo's Kensuke's Kingdom.

All of Faust's productions set children on their professional performing path and are a great learning opportunity for children to experience the magic of theatre. Above all, being part of a Faust production is a huge amount of fun and gives all those involved the opportunity to make long lasting friendships and memories.