Programmes

Holiday Programmes


We offer a variety of Holiday Theatre and Creative Writing programmes during the Mid-Autumn, Winter, Chinese New Year and Easter holidays for ages 4 through to 13.

More details about our Holiday Programmes in Season 21 (2019-2020) will be announced soon!

About our Holiday Theatre programmes

Our Holiday Theatre Workshops run either in the morning from 10.00am to 12.30pm or the afternoon 2.00pm to 4.30pm at our studio in Sheung Wan. Workshops are designed for ages 4 through to 12 (with groups divided according to age) to bring confidence, focus and fun to all who join!

Each week, under the careful guidance of our experienced and enthusiastic leaders, children will learn and practice drama skills using different themed stories as inspiration. Children will tell a story and present what they have learned in an open session at the end of the week for family members.

Workshops are tailored to the needs and age of the children. Parents are kept informed about what the group has been doing by a mid-week email outlining workshop content, as well as being invited to the end of week open session.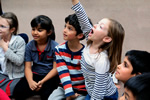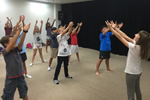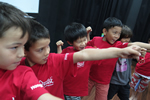 It is the only activity they constantly asked to do. They love the opportunities to be on stage and it has given them both a big boost in confidence. Faust Parent, 2018



About our Creative Writing programmes

Our Creative Writing workshops run either in the morning from 10:00am to 12 noon, or in the afternoon from 2:00pm to 4:00pm. Workshops are suitable for ages 6 through to 13 (with groups divided according to age), and take place at our studio in Sheung Wan.

Each week, under the careful instruction of our experienced creative writing teachers, children look at different aspects of creative writing including metaphors, similes, dialogue, poetry, descriptive techniques and genre writing, to list but a few. Whether a student is an aspiring writer or a novice, our students will have plenty to write about! Our limited class size (maximum of 8 students) provides a relaxed environment for our young writers to unlock their creative potential with a series of exciting writing challenges. We encourage students to express their own ideas and stories, teaching them specific writing techniques, figure of speech, literary tropes and more with lots of individual feedback.

At the end of the week, each child will build up their own portfolio of work to share with parents by the end of the week.

Please note these courses are designed for children with native or a high level of fluency in English, and are not designed as an English as a Second Language programme.



"Thank you for the course. Both kids are loving it! It's been hard to get them to read and write so this has been amazing."
Faust Parent, 2017



About Play in a Day

Our Play in a Day workshop is a very unique experience where students will put on their very own performance in just one day!

We start at 10.00am and after some initial warm-up activities, members of Play in a Day will then quickly start to work on casting, characterisation, line-learning, rehearsing, blocking, prop-development and performing. Everyone has to think on their feet, problem-solve and promote a team spirit to inspire all to achieve their best.

Just 7 hours later, at 5.00pm, the group performs their play in front of an audience! Each participant can invite two guests to share the magic of Play in a Day!

Participants need to have some theatrical experience and everyone must be prepared to make the effort required, throw themselves in and be prepared to try new things!



It was great fun for kids to work together and put up a play, not only for those who are interested in drama. This is also a fantastic opportunity for kids to explore about what they can do individually and as part of the group.
Faust Parent, 2018