ABOUT OUR HOLIDAY PROGRAMMES
Holiday Theatre:
boost your confidence, communication and expressive skills through drama-based challenges, acting and movement!
For ages 3 to 4 / 4 to 5 / 6 to 7 / 8 to 12 / 11 to 15
Dates: April 3
rd
to April 6
th
/ April 11
th
to 14
th
Creative Writing*:
learn and practise new writing techniques to express yourself confidently on the page!
For ages 6 to 7 / 8 to 10 / 10 to 13
Dates: April 3
rd
to April 6
th
/ April 11
th
to 14
th
Musical Theatre:
develop your skills in singing, dancing and acting and learn how to be a triple threat performer!
For ages 8 to 12 / 11 to 15
Dates: April 3
rd
to April 6
th
/ April 11
th
to 14
th
Play in a Day:
Featuring fun and thought-provoking characters, you will create and perform Robin Hood & Maid Marian in just one day!
For ages 8 to 12
Date: Saturday April 15
th
Click here
to view our full Easter Holiday Programme schedule!
FEES
Holiday Theatre
$2,650 per programme (4 days x 2.5 hours)
Creative Writing
$2,650 per programme (4 days x 2 hours)
Musical Theatre
$2,650 per programme (4 days x 2.5 hours)
Play in a Day
$890 (1 day x 7.5 hours)
*Children can join more than one programme for a complete holiday learning experience!
Discounts are available through one of the following methods:
EARLY BIRD OFFER:
Enjoy a 10% discount on registration fees if you register by March 3
rd
OR
FRIENDS TOGETHER OFFER: Share the excitement of a Faust Programme with your friends! Register 3 or more children with your friends at the same time to enjoy a 15% discount on fees!
How to enjoy the Friends Together discount?

Invite your friends to join a Faust's Easter Holiday Programme
Please complete an online registration form for your child. In the first section, after completing your child's details, please submit your friends' details in the section below:



Your friends are also required to complete a registration form for their child. Once we have received the online registration forms from you and your friends, we will apply the 15% Friends Together discount. Our registration team will contact you and your friends, and ask one of you to pay for all registrations.
Enjoy a wonderful holiday programme experience together!
You can save 10% if you register before March 3rd, OR save 15% if you register with 3 or more friends!
PROGRAMME SCHEDULE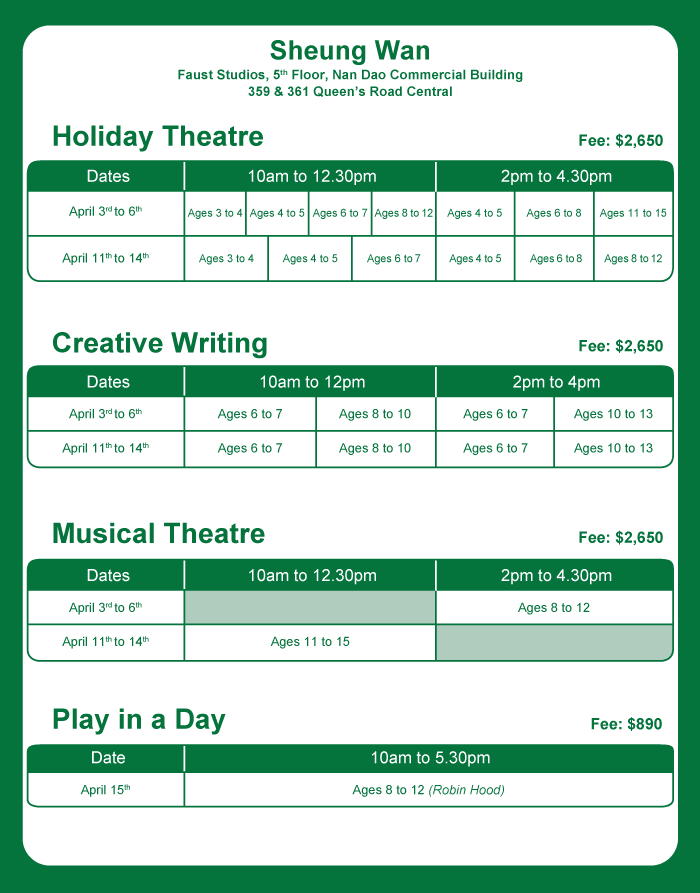 Click here to register online
ABOUT HOLIDAY THEATRE
Our Holiday Theatre Workshops run either in the morning or the afternoon at our studio in Sheung Wan. Workshops are designed for ages 3 to 15 (with groups divided according to age) to bring confidence, focus and fun to all who join!
Each week, under the careful guidance of our experienced and enthusiastic leaders, children will explore different aspects of the performing world by learning and practising drama skills using different themed stories as inspiration. Workshops are tailored to the needs and age of the children. All activities are engaging and challenging, and focus on providing children with a sense of achievement and a boost of creativity and confidence. Most importantly, our workshops are designed to be fun and enjoyable for all! At the end of the week, photographs and an end-of-week report will be emailed to parents.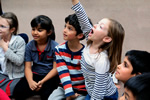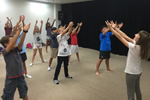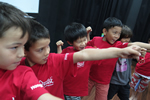 "Thank you for opening up an amazing and wonderful experience for my child!
Faust Parent, 2019

It is the only activity they constantly asked to do. They love the opportunities to be on stage and
it has given them both a big boost in confidence.
Faust Parent, 2018
ABOUT CREATIVE WRITING
Our Creative Writing workshops run either in the morning or in the afternoon. Workshops are suitable for ages 6 through to 13 (with groups divided according to age), and take place at our studio in Sheung Wan.
Each week, under the careful instruction of our experienced creative writing teachers, children look at different aspects of creative writing including metaphors, similes, dialogue, poetry, descriptive techniques and genre writing, to list but a few. Whether a student is an aspiring writer or a novice, our students will have plenty to write about! Our limited class size (maximum of 8 students) provides a relaxed environment for our young writers to unlock their creative potential with a series of exciting writing challenges. We encourage students to express their own ideas and stories, teaching them specific writing techniques, figure of speech, literary tropes and more with lots of individual feedback.
At the end of the week, each child will build up their own portfolio of work to share with parents by the end of the week.
Please note these courses are designed for children with native or a high level of fluency in English, and are not designed as an English as a Second Language programme.
"My kids said that the whole time it didn't seem like they were doing homework when they had the expectation that
it would be like that! Your creative writing programme is a great fun and entertaining way
for kids to learn how to put their imagination down in words."
Faust Parent, 2018
"Thank you for the course. Both kids are loving it! It's been hard to get them to read and write
so this has been amazing."
Faust Parent, 2017
ABOUT MUSICAL THEATRE
Our musical theatre workshop is a great way for those interested in singing, dancing and acting to hone their skills to becoming a triple threat.
Throughout the week, members will learn how to become familiar with their voice and vocal range, act out parts of a script and song, and learn choreography. This will all culminate towards a small show case at the end of the week where family and friends can enjoy a small musical performance, subject to government guidelines. Alternatively, a video will be filmed and email to parents. A livestream may also be available during the performance.
This programme is not only for aspiring performers, but it is also for anyone who wants something creative and exciting to do during the holidays.
ABOUT PLAY IN A DAY
Our Play in a Day workshop is a very unique experience where students will put on their very own performance in just one day!
We start at 10.00am and after some initial warm-up activities, members of Play in a Day will then quickly start to work on casting, characterisation, line-learning, rehearsing, blocking, prop-development and performing. Everyone has to think on their feet, problem-solve and promote a team spirit to inspire all to achieve their best.
Just 7 hours later, at 5.00pm, the group performs their play in front of an audience!
Participants must be prepared to make the effort required, throw themselves in and be prepared to try new things!
It was great fun for kids to work together and put up a play, not only for those who are interested in drama. This is also a fantastic
opportunity for kids to explore about what they can do individually and as part of the group.
Faust Parent, 2018
TERMS AND CONDITIONS
Please visit
https://faustworld.com/policy.asp
to view our programme Terms and Conditions.
NEED HELP?
If you have any questions about our programme, please contact us at
Info@FaustWorld.com
or call us at 2547 9114.