Programmes

Free Trial Drama Workshops

Faust's Free Trial Drama Workshops are now open for registration to newcomers! Our Free Trial Workshops will run on Saturday January 2nd at our studios in Sheung Wan.

Register for Your Free Trial Workshop
In Sheung Wan!



For all newcomers to Faust and/or drama, we would love to invite you to come and experience the fun of our drama programmes with a free trial workshop for your child! Our free trial workshops offer children a flavour of our action-packed drama workshops and share some of the fun theatre-related games and activities we do in our workshops.

All workshops will be held at the Faust Studios in Sheung Wan.



FREE TRIAL WORKSHOP SCHEDULE

Location: Faust Studio, 5/F, Nan Dao Commercial Building, 359 & 361 Queen's Road Central, Sheung Wan



Register for Your Free Trial Workshop
In Sheung Wan!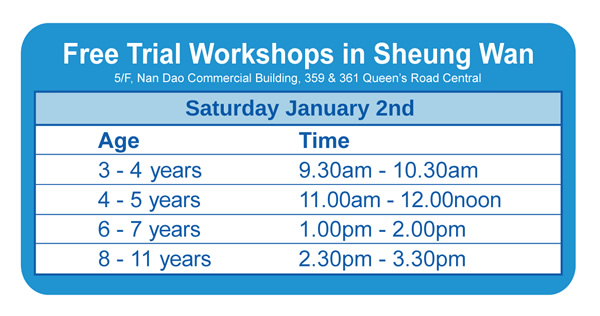 Although our trial workshops are a fantastic opportunity for newcomers to try out our workshops, registrations for our Term-Time Drama workshops fill up very quickly. If you are sure you want to register your child for our upcoming Term-Time Drama programme, we strongly recommend that you sign up as soon as possible. Please click here to learn more about our Term-Time Drama Programme.

Please note that our trial workshops are designed for children who have never joined our Term-Time Drama Programme and/or our School Programmes within the past 2 years.

Children who have previously enrolled in our Creative Writing programmes or any of our Online Programmes are welcome to join our free trial workshops, as long as they have not enrolled in any of our Drama programmes in the past 2 years.