Shows
The Faust Festival 2023 - A Dramatic Feast For The Whole Family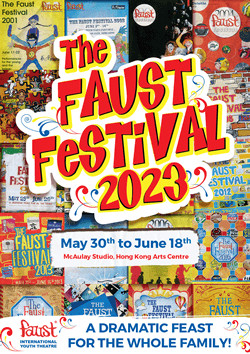 30th May to 18th June 2023
McAulay Studio, Hong Kong Arts Centre

About The Faust Festival
The Faust Festival is our annual theatrical extravaganza, celebrating our members' talents and learning, taking place each May and June. Performances are many and varied, with a wide selection to choose from.

Each member of our Term-Time Drama Programme, aged 4 and above, will take part in the Festival (except Tots and Stage Group). This is a wonderful opportunity for our budding actors to experience the buzz of performing in a dedicated performance space and share their theatrical skills with family, friends and the public! This also provides our members with great insight into everything involved in a theatrical production.

This year, we are very excited to present a selection of show-stopping extravaganzas, with performances spread out during our three-week Festival. Performances include: The Jungle Mix Up, The Curious Chase of the Gingerbread Man, The Kid Who Would Be King, Rosaline, Modern Teenage Fables, Spoonful of Sugar: A Musical Medley and Thank You For The Music: A Revue!

Whether you are looking for a retelling of a classic children's story or a new, creative and innovative show for young adults and family groups alike, this year's Faust Festival has something for everyone.



Join us for an action-packed celebration of dramatic fun for the whole family!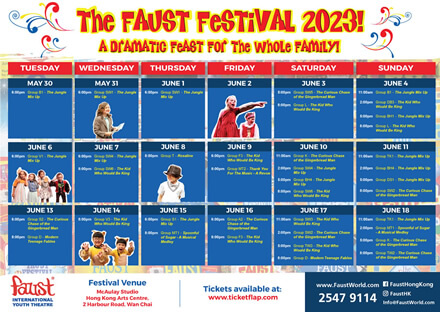 Click here to download the Faust Festival Schedule 2023



Ticketing
Tickets are priced at HK$155. Now on Sale at TicketFlap.com!

Each audience member must have their own ticket.
Please book your tickets early as we have a limited number of seats for each show.



Book your tickets now!



To get a flavour of the fabulous performances our talented young actors create in our annual Festival, click on the photo (and video link) below.



Click here to see photos from past Faust Festivals!

Click here to see videos of our Faust members in action during Faust Festivals!